Colonial is a patrimonial company based in Barcelona, inaugurated more than 70 years ago. Colonial has a portfolio of assets of more than one million square meters of rental offices spread between buildings in Barcelona, Madrid and Paris.
One of the branches that Colonial is dedicated, it is to rent and maintain buildings for large companies and large corporations, for many years already.
For the estate agency Colonial one of the most important assets is the documentation of the buildings of its managers. Searching for the security and updating of these documents Colonial contacted urCollection team.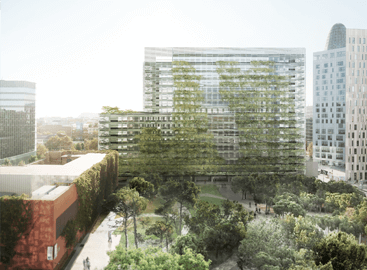 Colonial
Colonial Success Story
As all estate agency and property companies, Colonial manages a large amount of documentation, mostly confidential. With urCollection they protect and distribute their content in a much better way.

Colonial needed to manage and distribute the documentation of buildings quickly, orderly and with maximum security. Colonial contacted urCollection because they knew the developer company very well and were very satisfied with the services previously received.
At that moment Colonial was not using any technological solution to manage and distribute these documents. For this reason, they were looking for a technological software that would allow them to:
1. Avoid dispersion of information: more control over the distribution of administrative documents.
2. Avoid having different versions of the same document. Difficulty knowing what was the last update.
3. Protect documents, especially confidential ones. Contents were being shared and printed.

First we analyzed Colonial's requirements in detail, later we advised them to use urCollection app. In this way they would safely and easily distribute documentation of their buildings.
1. urCollection is a solution that allows centralized all documentation. Store all documents orderly in the control panel and ensure that managers can access to these files from their mobile devices through this app.
2. Have absolute control of documents from the control panel, to which only administrators have access. Manage contents: adding, deleting and modifying documents. All actions taken on the control panel will automatically be applied to the apps of mobile devices. In this way managers will always have the latest updated documents.
3. Assign permissions to documents to protect them from their possible dissemination with urCollection. Administrators, from the control panel, can decide what managers can do with those documents and restrict them from being shared and printed.
Implementation was very quick and easy. Managers downloaded urCollection app on their mobile devices from the AppStore, Market Play and Windows Store. Administrators of Colonial provided each of them with a user and a password, which they had previously configured from the control panel, and automatically they had all documents in their device.
urCollection prevents dispersion of information, speed up the controlled distribution of documentation, enhances the latest updates and protects documents from possible dissemination. For this reason, many estate agency and property companies have already decided to use urCollection app to control their administrative documents.

From the very first day Colonial verified the advantages offered by urCollection. Now, almost half a year later, they have highlighted these results:
Now there is an exhaustive and centralized control of all buildings documentation

There is a good distribution of the documents to managers, in a controlled and safety way

Only administrators can add, delete or modify documents

Documents are up-to-date and managers always have the latest versions

Contents are protected with maximum security
Restrict actions that the managers can do with documents, especially sharing and printing, to prevent the dissemination of information

Documents will never be distributed outside the system

Analytics show that managers use the documentation more than imagined

With usage analytics you can know which documents are used the most, which also are the most important ones for managers